Various Ways to Pay Tuition for Online College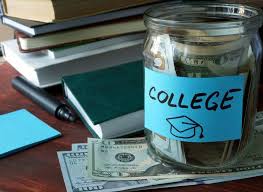 When considering the decision to go back to school adults often lament about the cost associated with college. People wonder if the amount spent on the degree will really equate to earnings that will give them a good return on their investment. When comparing various prices for tuition at different schools the doubts are understandable. However, online schools continue to offer one of the best packages for the least price.
People that have never searched for tuition funds may be a little intimidated by the process. Without a doubt there is no right or wrong way to secure the necessary money for tuition and fees. But there is a huge assortment of grants, scholarships and loans aimed at helping people complete their degree in a timely manner.
Here are some of the more popular methods for finding tuition money.
Get help from your current employer. Several companies offer different forms of a college reimbursement plan. They see the value of helping employees improve their knowledge and skills and are willing to help pay for the cost of getting a variety of degrees. However, this may not be a good course of action if you are returning to school to get a job in a different field.
Complete the Free Application for Federal Student Aid (FAFSA). This one form will help you find out about the government assistance for which you are eligible. If you can you should seek out a federal loan over a private loan since the federal loans usually offer better interest rates.
Talk to private organizations and foundations. There are a variety of local groups in most areas who annually offer a scholarship to students based either on need or some special criteria. This could be a church, an employee's union, or a civic organization.
Ask your State for help. States also have scholarships as well as various loans they offer in order to help people achieve a degree. Start by calling a State office of education to find out about the possible sources of funds.
Use tax credits. The federal government offers a $2000 credit under the Lifetime Learning Credit program. This credit is applied towards materials bought in the pursuit of a bachelor's degree or a master's degree.
Perform a thorough grant search. Grants are a great way to get money for college since there is no requirement to repay the money. Grants come from numerous places. There are grants offered by government agencies at the local, state and Federal level. Some private organizations also have their own grants that they award yearly. And you can inquire about the Academic Competitiveness Grant, the Pell Grant and the Federal Supplemental Education Opportunity Grant.
Ask about benefits for veterans. Veterans are able to qualify for the Reserve Educational Assistance Program also called REAP. In addition, the spouse or children of veterans may qualify for assistance under the Survivors' and Dependents' Educational Assistance Program (SDEA).
Complete scholarship applications. Scholarships are very similar to grants since it is not expected that the amounts are to be repaid. Scholarships come from companies, organizations, schools, civic groups and many other places. Some are awarded simply based on an application whereas others may have stricter requirements.
Research all available financial assistance programs. Investigate each financial assistance package from the various schools that you are considering.
Study graduation percentages for your intended school. Be aware that some schools are incredibly tougher than others. Ask the admissions counselor for the percentage of students that graduate each year, particularly in your chosen field.
https://www-stg.mastersdegreeonline.com/wp-content/uploads/2019/06/paying-for-college.jpg
192
263
admin
https://www-stg.mastersdegreeonline.com/wp-content/uploads/2019/04/logo-new3.png
admin
2019-06-18 18:32:43
2019-06-20 14:47:11
Various Ways to Pay Tuition for Online College or masters degree